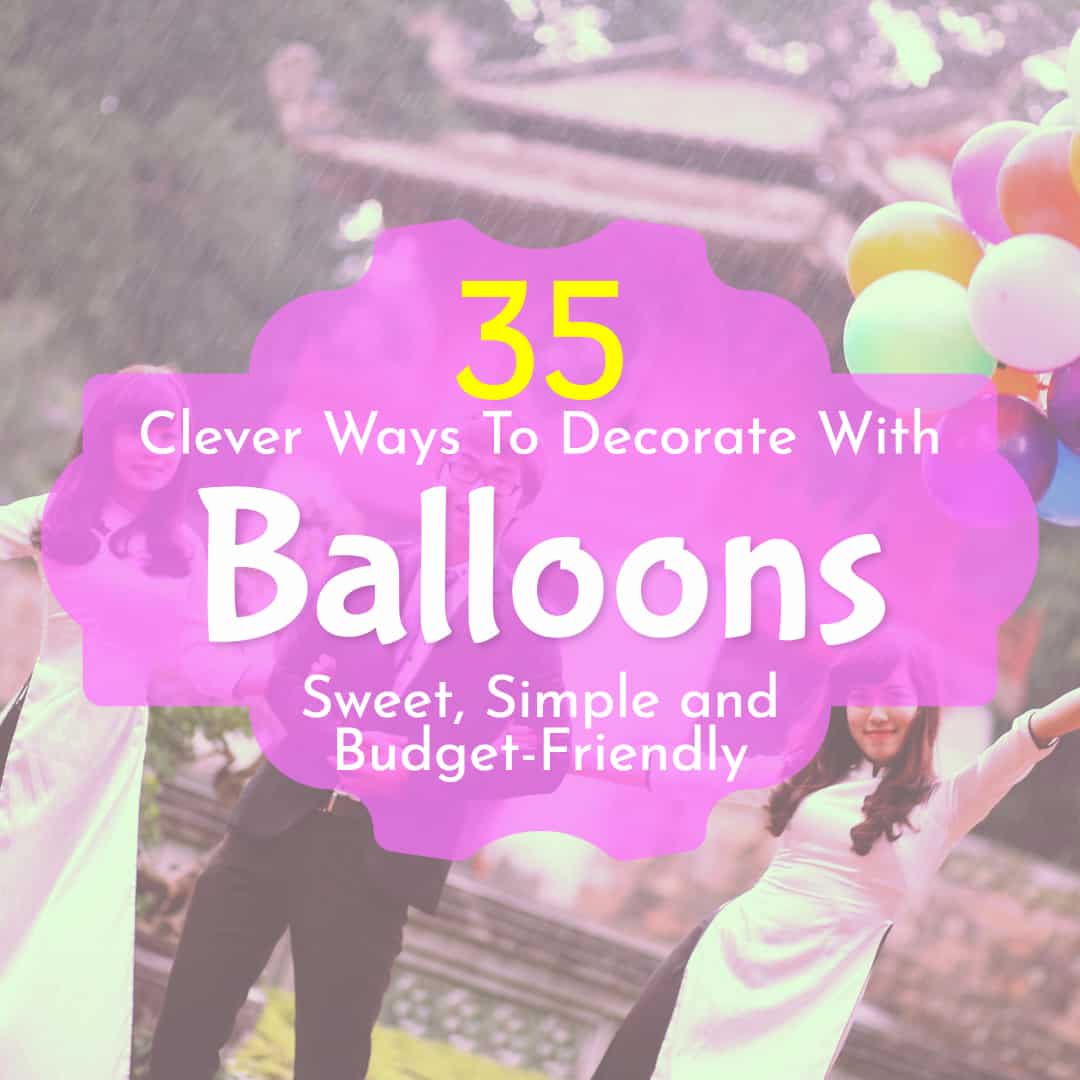 You might think that balloons are only for birthday parties. Think again! There are many ways to create an air of celebration on your wedding day with balloons. Here are thirty-five clever ways that you can decorate your wedding reception with beautiful balloons!
1. Create A Balloon Train
A tight, controlled arch of balloons will feel to childish and could even look a little tacky. Loosen up the flow and patterns of the balloons, and you get a beautiful, cascading train instead. Add a few bends and curves to your balloon train, as well as flowers and vines for a mature look.
2. Lovely LED Lights
Did you know that there are special balloon-sized LED lights? Pop a pill-sized light into a balloon, and add these floating treasures to your lighting scheme. Illuminate the night in style, for just a few bucks.
3. Mr. & Mrs.
"Mr." and "Mrs." balloons are a trendy item that you can find on Amazon, Etsy, or possibly your local party store. You could even create your own with over-sized balloons and a sharpie. These would look great tied to the back of the bride and groom's chairs. They also make perfect props for a "Just Married" kissing photo.
4. Words Of Love
Speaking of balloons and sharpies… you can also write other words on balloons, or even draw pictures. Create balloons that say the date, cute sayings about the couple of honor, or inspiring words like "love", "unite" and "forever".
5. Floating Garlands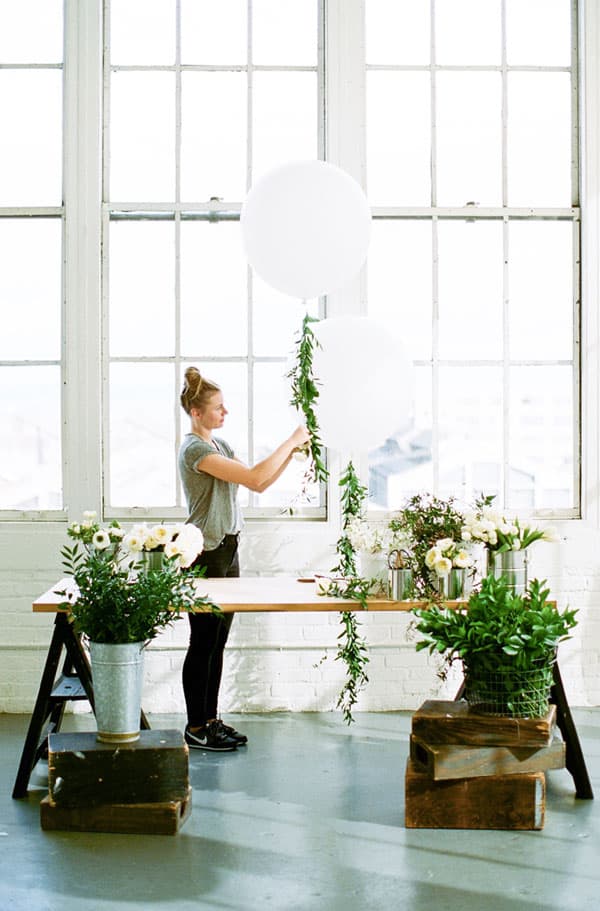 Who says that garlands are only for the table top? Tie a light, simple garland to the end of a large helium balloon for a gorgeously green effect. This is one way to bring the greenery that we love so much in ourdoor weddings inside. This would work especially well in a space with large ceilings.
6. Go Big Or Go Home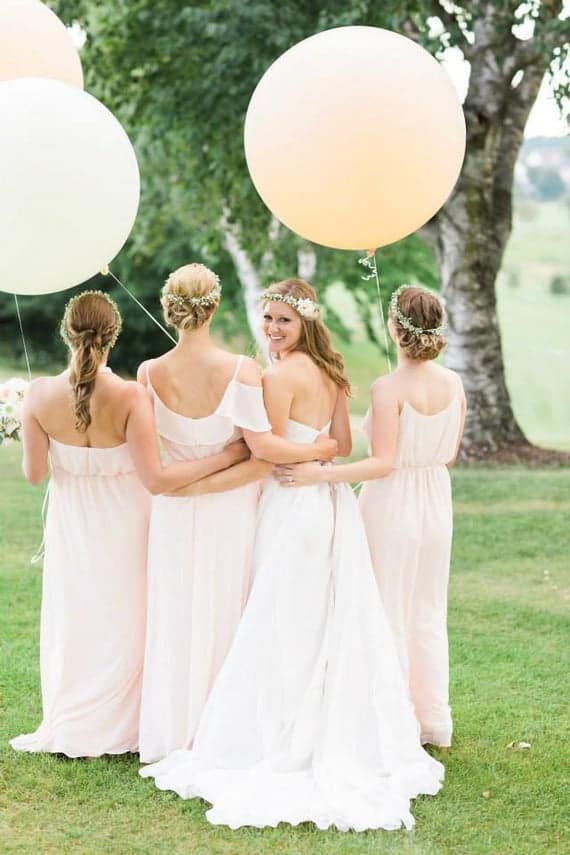 Giant balloons like the one's above are perfect for posing with. Just don't let go!
7. An Air Balloon Theme
8. Confetti Filled Balloons
Balloons filled with big chunks of gold, or multicolored metallic disks are fun to place next to signs, menus, or special seats. For a look that shouts "celebrate!" go with a confetti filled balloon.
9. Dipped In Glitter
You can also dip balloons in glitter if you want to add some shine to your decor. One or two of these will do! Place them close enough to your lighting that they reflect a pretty glow. You can use colored balloons and colored glitter, or stick with white and gold for a classic look.
10. Golden Paint For An Extra Glow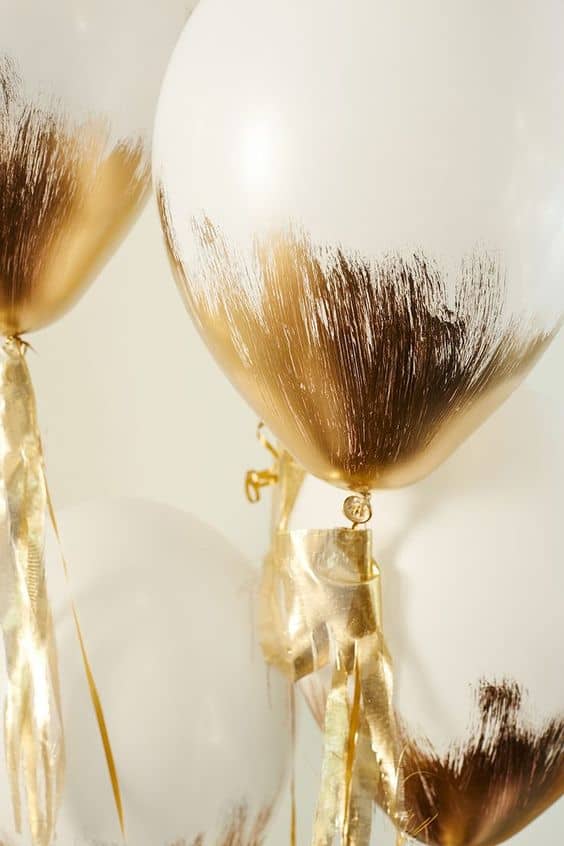 A little bit of gold paint can work wonders. I love the streaky, free look of the brush strokes above. Keep it light and playful.
11. As You Say I Do
What will be directly behind you as you say "I Do?" The greenery, words, and balloons work together in the picture above to give a sense that the couple is taking off on a magic carpet ride. The balloons trail off into the distance, and the words paint a picture in your mind. This is a great idea for a couple that is ready to take off into the unknown together.
12. Sweet And Simple
You don't need to fill your space with balloons. One or two will do! Have a few balloons available for cute photo ops.
13. Make The Day Bubbly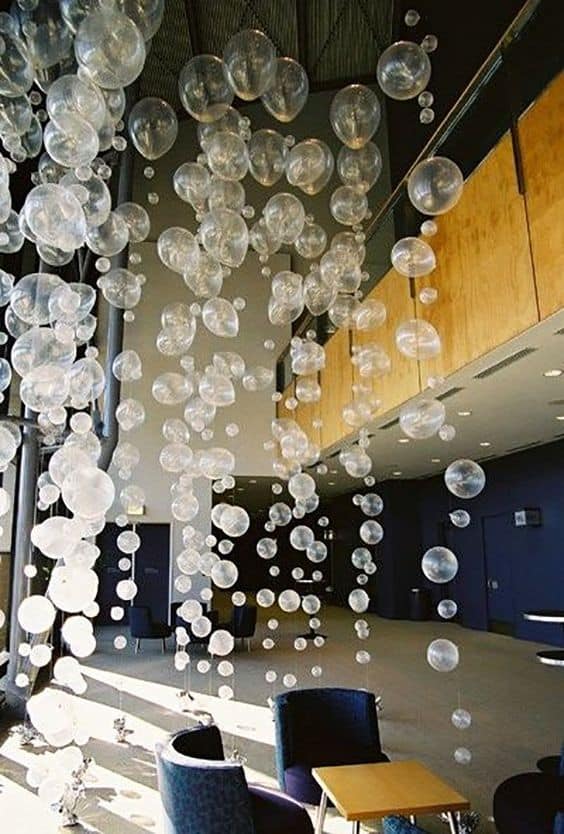 Create an effect of rising bubbles by having clear balloons trail down from the ceiling. Wouldn't it be lovely to feel that you are floating in a bubbly space all day? This dreamy style will give your guests an experience that they won't forget.
14. Here Comes The Bride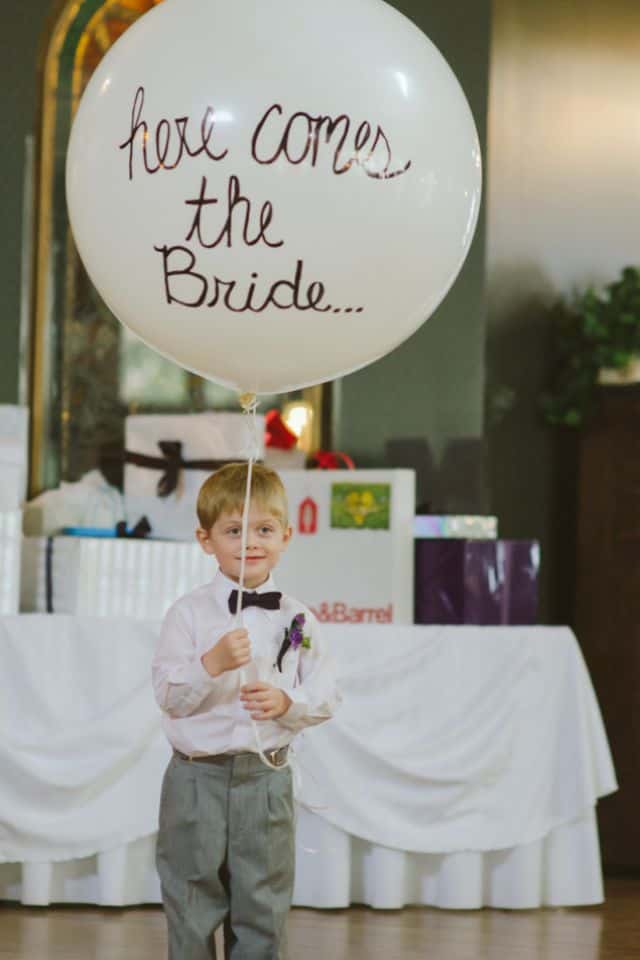 What a great way to announce "Here comes the bride"!
15. Bright Send Off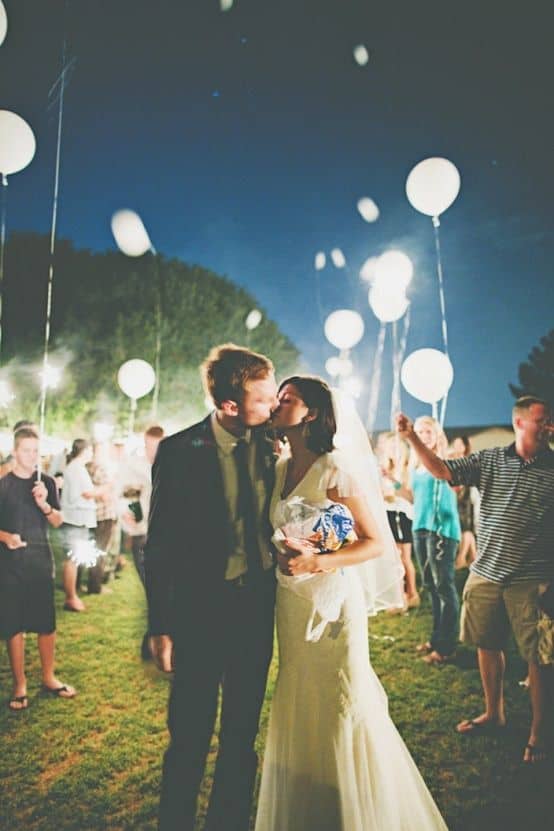 Illuminated balloons (remember the LED lights I mentioned?) make for a magical send-off.
16. Filling the Ceiling
The design of your reception venue should incorporate the walls and the ceilings. If you are not pleased with the ceiling in your space, or are struggling with ways to involve it in the design, think about floating a layer of balloons up there. This is an easy and cheap way to bring color to the ceiling.
17. Give Height To Your Centerpiece
Add a vertical element to your centerpiece arrangements with a  helium filled balloon. This playful style, when done tastefully, is just the right touch if you want to lighten the mood. No one can take dinner conversation too seriously with a balloon floating over-head!
The use of one balloon per table adds a vertical element to each table, which sets a great rhythm for the design of the reception space. In the picture above you can see how each balloon draws the eye up into the spacious ceiling.
18. On The Wall
Place balloons on the wall above your bubbly bar. Champagne, anyone?
19. Add Some Hearts
You'll never go wrong by adding a big, bright red heart to the mix.
20. Flowing, Draping Streamers
Attatch streamers to your balloons. This is a hassle free way to bring color and warmth to your space.
21. Table Numbers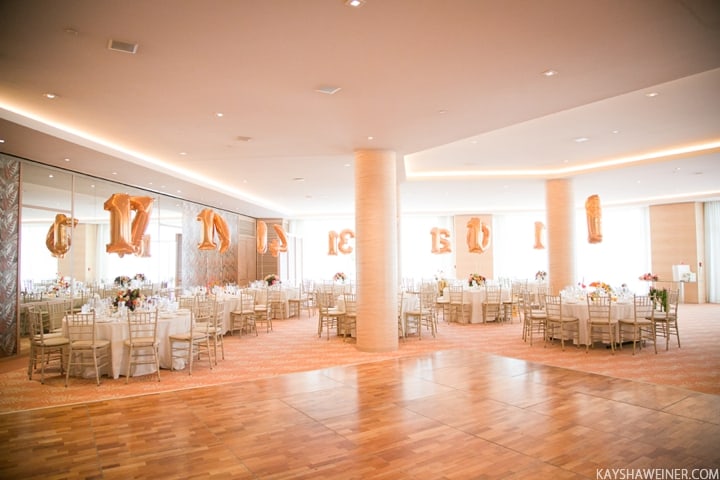 I love the way the balloon table numbers look above each table in the photo above. In order to pull this off, you'll need a spacious venue.
22. Fancy Ribbons For A Blast Of Color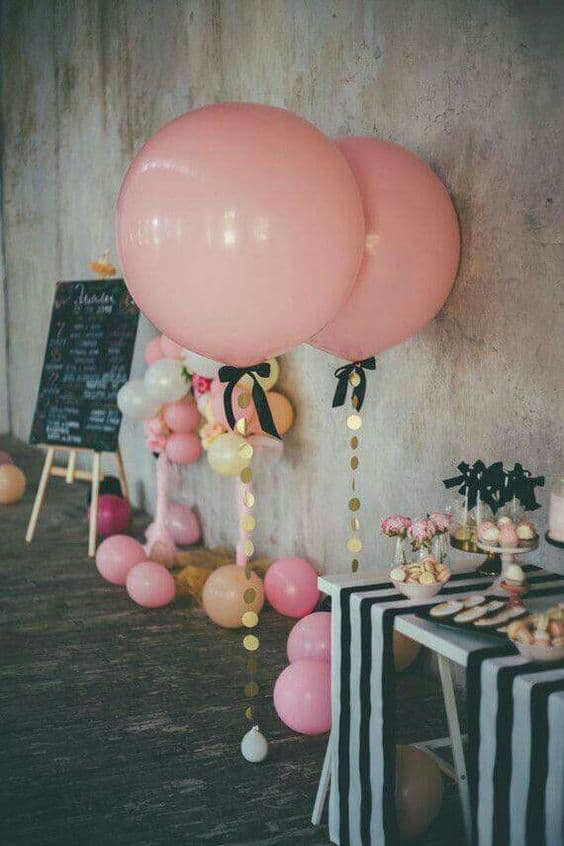 Looking for something to dress up a "blah" space? Imagine the photo above without the voluminous balloons. It would look pretty dreary, right? If you're working with a dull, cold, or unwelcoming space, try tossing in some balloons with fancy ribbons and bows.
23. Sunny Tassels
Tassels in gold, orange, and pink bring the table setting above to life.
24. Enhance Your Color Palette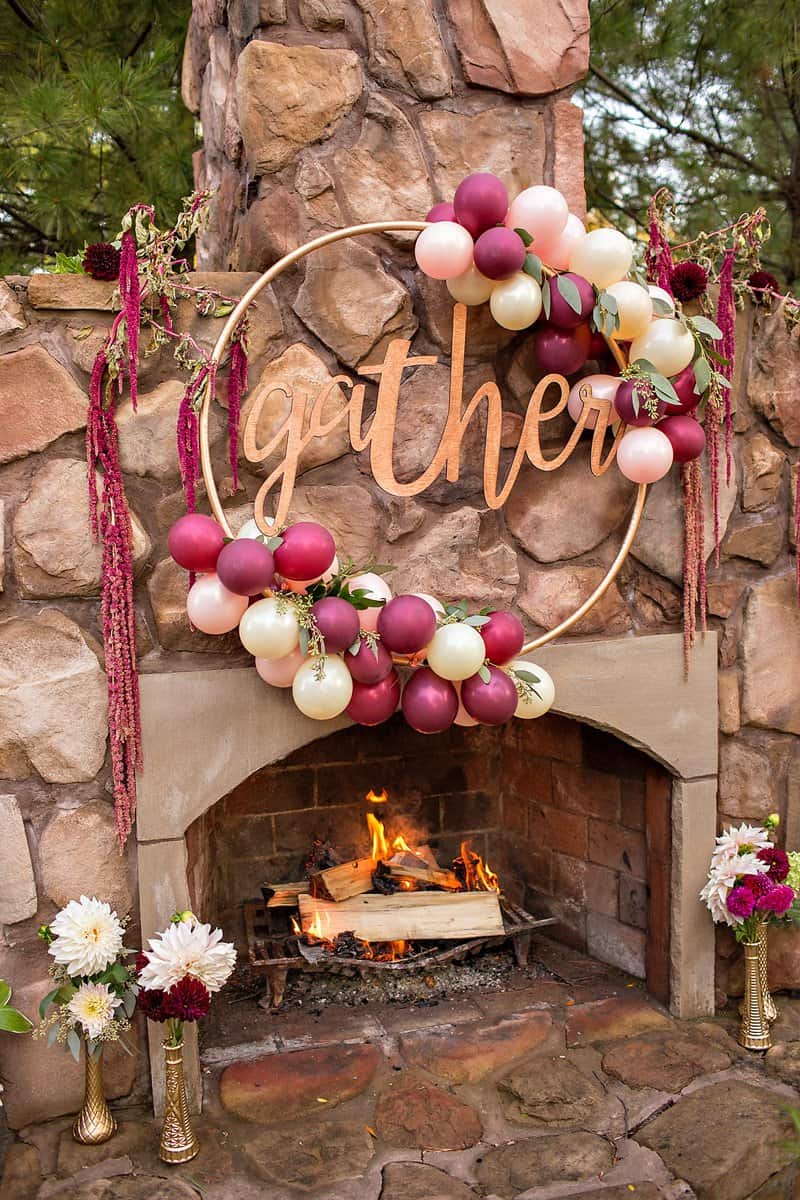 Sometimes your wedding venue has several spaces that need to be addressed. For example, you might have an indoor space to decorate as well as an outdoor patio, porch, or green space. You can easily weave your color palette into any space by adding a few balloons.
Look for existing design elements, such as the fire place above, and dress them up with balloons and other decor. This will unify your theme. Make spaces feel intentional instead of like the "outskirts" of your venue.
25. Mixed With Flowers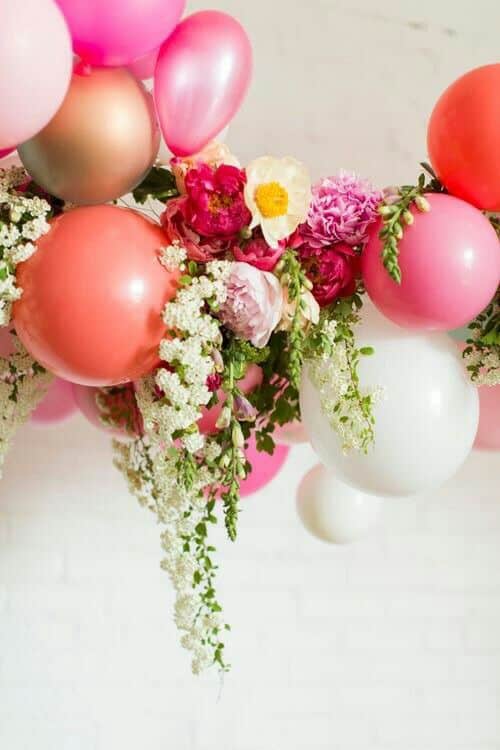 You don't have to stick with just balloons. Elevate your floral scheme by weaving flowers in with balloons.
26. Here and There For A Bit Of Whimsy
One or two balloons can bring a sense of quaint, fanciful humor to any reception. Make your guests smile!
27. Cascading Bubbles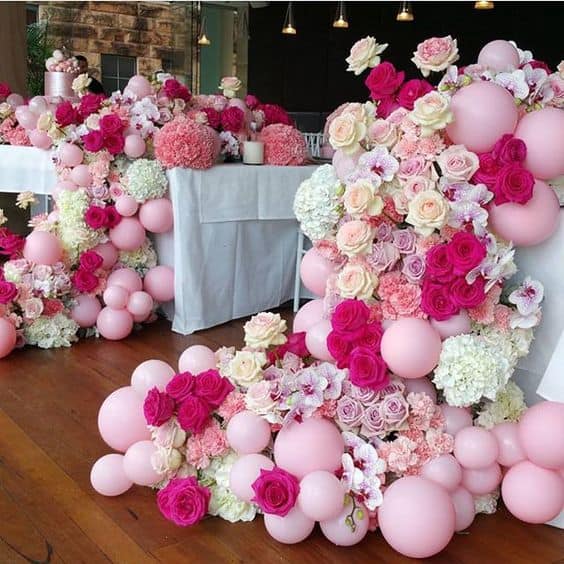 Similar to the balloon train, this decor is created by cascading balloons in a loose, uncontrolled manner. It should look artistic and uneven, so that the balloons seem to be spilling off of the table.
28. Say It In Balloon Speak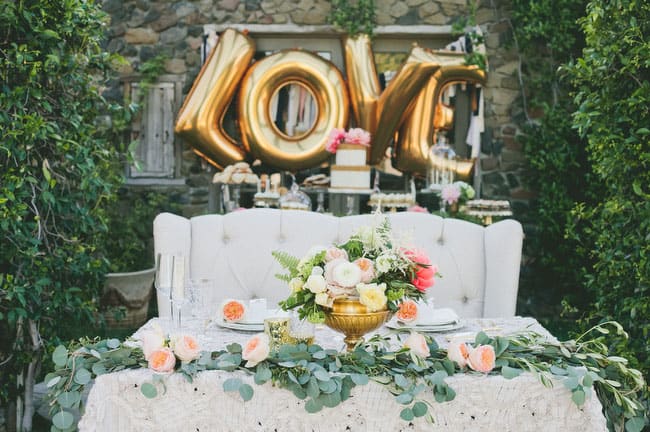 LOVE balloons can work well against a wall, behind the dessert bar, or attached to seating.
29. Easy Backdrop
Are you planning on having a photo booth set up? Balloons make the perfect backdrop. Tape balloons to a plain old wall to spice it up.
30. Gift Table
Give thanks to your guests by adding a few balloons to your guest table with words that express how much they mean to you. You can place these near your gift card box and gift collection area.
31. Add A Splash Of Modern Color
Colors can make a traditional space feel modern. Use balloons for a quick dash of color and bring your decor forward s a decade or two.
32. Greenery Galore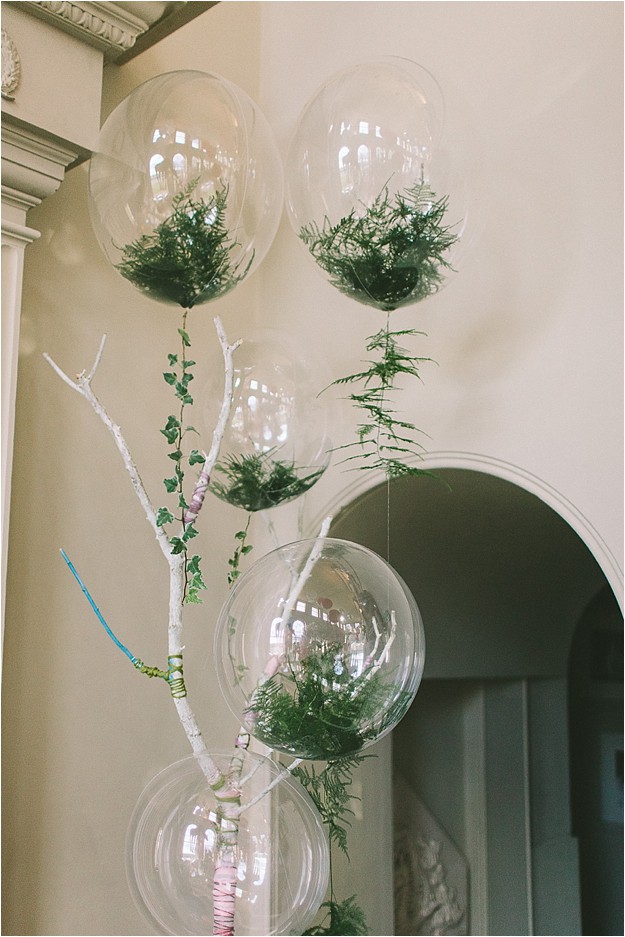 Feeling artistic? What about creating a modern sculpture with clear balloons and branches? Introduce some greenery to the mix. In the sculpture above, little ribbons have been wrapped around the branches. What else could you do with a sculpture like this? The sky's the limit!
33. Your Flower Girl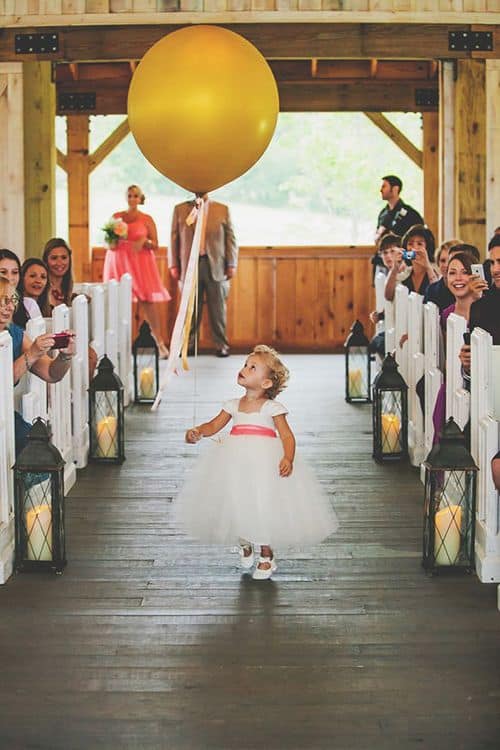 What will your flower girl carry down the aisle? Break with tradition and surprise your guests by giving her a balloon instead of petals.
34. Let The Kiddos Play
Speaking of your flower girl… what about the other little one's at your wedding? Fill a children's play space with balloons for a fun treat.
35. Floating Hearts
Give each member of the wedding party a red or gold floating heart. This will make for sweet wedding party photos, and then they will naturally decorate your reception as the wedding party lets them drift to the ceiling.
Balloons are inexpensive compared to other decor items, yet there is so much that you can do with them.