POM POMS PARTY DECORATIONS 🎉 Spice up your next birthday celebration, wedding party, special anniversary or graduation day with our amazing, tissue paper decorations! Impress your guests with your imagination and endless creativity using 24 paper flowers that are bound to elevate the décor of any setting!

ASSORTMENT OF COLOR & SIZES 🎨 With every order you will be getting 24 different paper flower decorations (14″, 10″, 8″, 6″ sizes) ready to bloom at your will! Plus, the assortment of colors will definitely please your eyes! Decorate your home or party with Champagne, Peach, Ivory & White colored pompoms and you will never regret your decision!

EASY TO ASSEMBLE ✔ Even if you are a busy person and don't have days to prepare for your next party, don't worry about it! Our paper pompoms can be used as centerpieces, hanging ornaments or in many other ways since they are extremely easy to assemble and hang for astonishing and impressive displays!

QUALITY DESIGN THAT LASTS! ❤ Contrary to those poor-quality pompoms that easily tear apart before you even touch them, ours are made with high quality durable paper and will last for a long time. Especially if you plan on using these paper flowers as part of your kid's room décor or similar decoration, rest assured they are ready to pass the test of time!

FUN PARTY DÉCOR OR YOUR MONEY BACK! 💥 We invite you to give our premium pompoms a try during your next party and if you or your guests are not fascinated by them, just get in touch with us and we'll make it right. After all, your purchase is covered under our 100% SATISFACTION GUARANTEE for your complete peace of mind!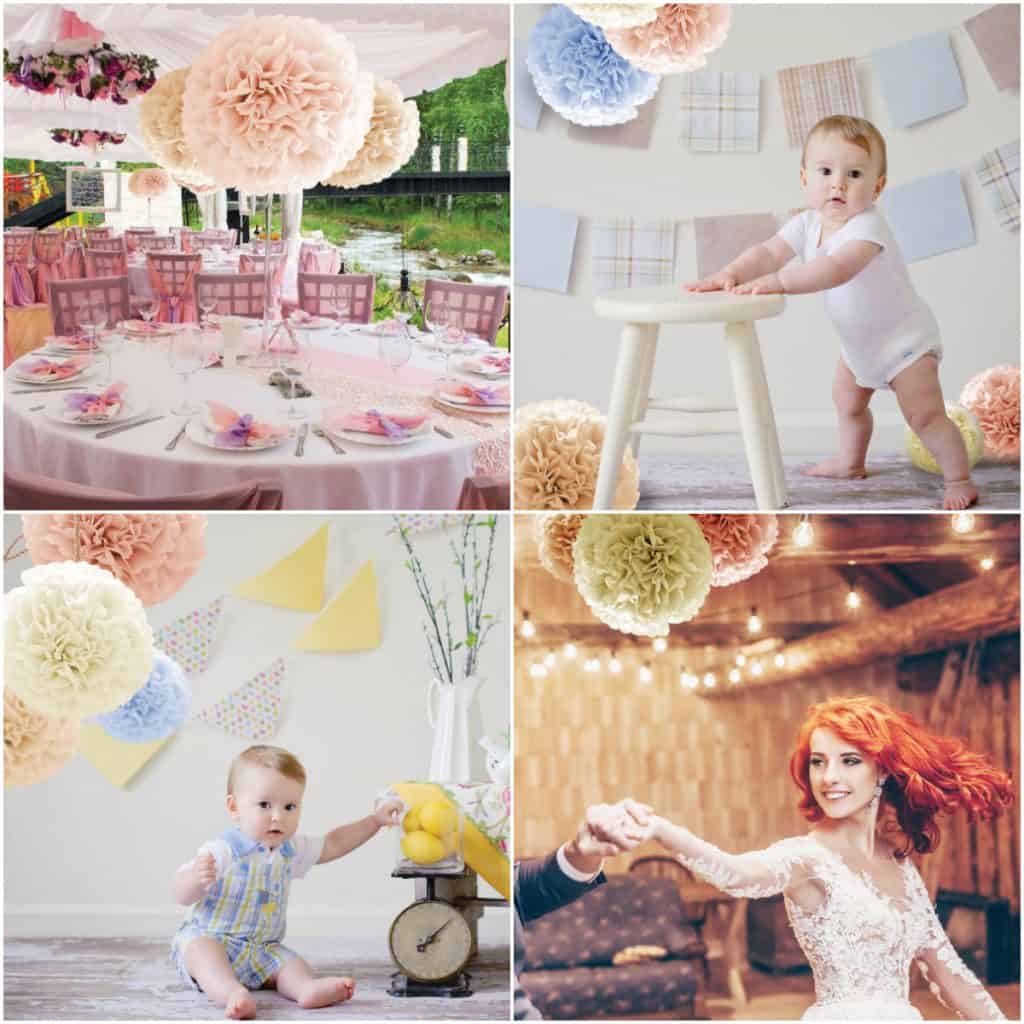 Looking for gorgeous stylish party decoration pom poms? Get your perfect tissue paper pom poms and create a beautiful festive at any occasion like a Wedding, a Birthday, Graduation or Housewarming Party or simply to decorate a baby's room.
The combination between elegant colors in 4 different sizes are simply adorable! They are also very resilient and perfect to reuse! Unlike other poor-quality pompoms that easily tear apart, ours are made with high quality and very durable paper. It will last especially if you plan on using them to decorate a room and not just for a single event!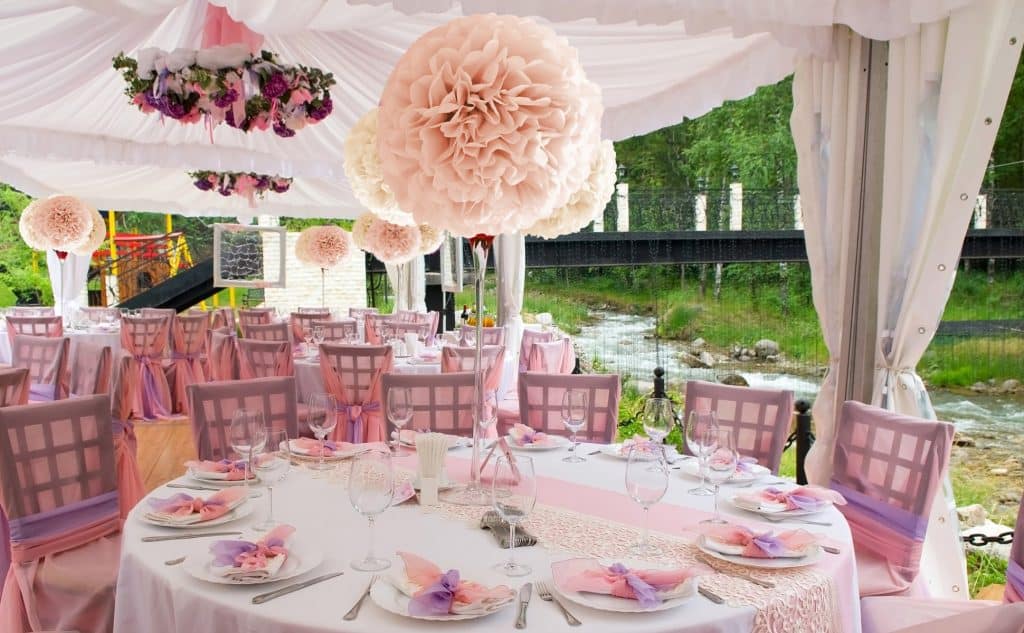 24 Pack in Sizes: 14″, 10″, 8″, 6″ and Colors: Champagne, Peach, Ivory, White
Soft & Elegant Color Assortment: Do not settle for anything short of the very best. Add Fun & Charm To Your Room or Your Next Party!
WATCH THE VIDEO ABOVE OR FOLLOW THESE SIMPLE 4 STEPS FOR AN EASY ASSEMBLY.
| | | | |
| --- | --- | --- | --- |
| Tie the ribbon tightly. Make sure it's centered. | 2. Unfurl each layer gently pulling away from center one layer at a time. | 3. Evenly and gently fluff the layers on both sides to get a rounded shape. | 4. That's it! Hang and enjoy! |
YOUR DÉCOR SHOULD MAKE WHAT YOU CARE ABOUT THE MOST SPARKLE!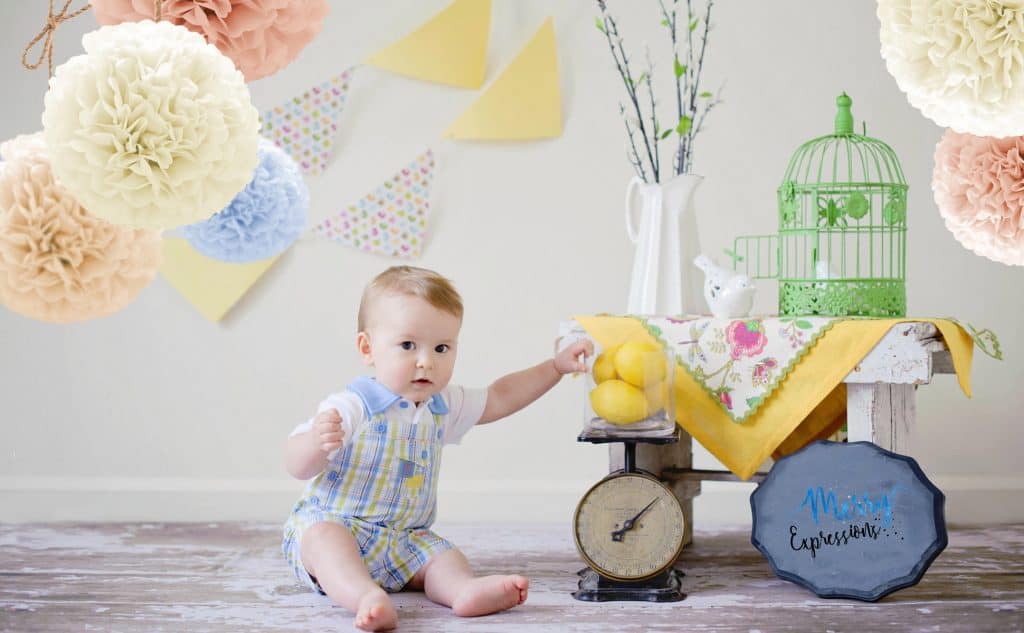 Add the perfect touch to your next party or décor to your baby room.
Merry Expressions 24 Pack is:
Easy and fast to assemble

Made from high quality paper materials

Very versatile and can be decorated, hanged or displayed in many ways

Simple but they add the perfect touch that will impress
Gorgeous Colors, Perfect Sizes…